Freeman Webb is a private real estate investment firm that specializes in the acquisition, management, and renovation of multifamily residential and commercial property. The Freeman Webb investment and management portfolio includes over 11 million square feet of multifamily, office, and retail property in the Southeast and Midwest. Formed in 1979 by William H. Freeman and James A. Webb III, Freeman Webb has grown to a full-service real estate firm with more than 450 associates.
Today, Freeman Webb is the largest private owner/manager of apartments in the Greater Nashville Area.
General Information
An Accredited Management Organization (AMO ®) by the Institute of Real Estate Management (IREM, BOMA).
Member of the Advisory Council of the National Multi-Housing Council.
Owns and/or manages a long-term portfolio of income-producing properties consisting of multifamily properties with more than 15,000 units and 1,000,000 square feet of commercial space including both retail and office space.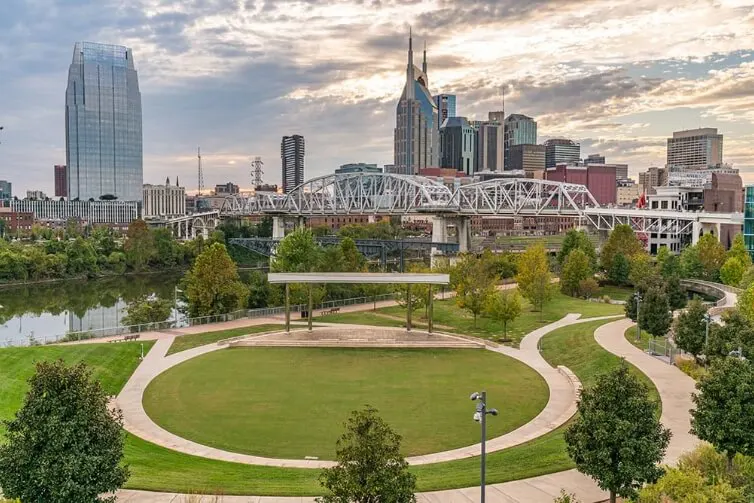 Major Markets Include
Nashville, TN
Knoxville, TN
Jackson, TN
Chattanooga, TN
Murfreesboro, TN
Clarksville, TN
Franklin, TN
Columbia, TN
Jackson, MS
St. Louis, MO
Huntsville/Madison, AL
Bowling Green, KY
Freeman Webb is affiliated with the following professional real estate organizations:
Greater Nashville Apartment Association: Freeman Webb's involvement includes former past Presidents currently active on the Board of Directors, as well as numerous committee and volunteer positions.
Tennessee Apartment Association: Currently active on the Board of Directors of this organization.
Freeman Webb is also a member of the local apartment associations in all the cities where it operates.
Institute of Real Estate Management (IREM): Freeman Webb has had employees serve in various offices, including Treasurer, President, and committee chairs.
Freeman Webb is an Accredited Management Organization (AMO ®) by the Institute of Real Estate Management. This designation is only given to real estate management firms that meet the highest standards in the industry.
International Ethics Standards (IES): Freeman Webb is a member of IES, whose aim is to assert and sustain the critical role of ethics in professional practice to meet the needs of the global market and to maintain public trust and confidence in land, property, construction, infrastructure and related professions.
National Multi-Housing Council (www.NMHC.org): Freeman Webb is a member of the NMHC Advisory Council.

The Washington DC-based National Multi-Housing Council (NMHC) was founded in 1978. NMHC members are the principal officers of firms engaged in all aspects of the apartment industry including ownership, construction, management, and financing of multifamily rental properties. The Council is acknowledged as the preeminent source of apartment-related information.
Apartment Association of Greater Knoxville: Freeman Webb team members have held a variety of offices, including President, committee chairs, as well as serving as active members of the board of directors.
National Apartment Association (NAA) www.naahq.org: The NAA is North America's leading advocate for quality rental housing. They serve the interests of multifamily housing owners, managers, developers, and suppliers and maintain a high-level of professionalism in the multifamily industry.

NAA is a federation of more than 165 state and local affiliates comprised of more than 36,000 multifamily housing companies representing more than 5.7 million apartment homes throughout the United States and Canada. They provide a wealth of information and assistance through advocacy, research, technology, education and strategic partnerships.
Building Owners and Managers Association (BOMA) www.boma.org:

BOMA is an organization primarily directed at commercial building owners and managers. BOMA International was founded in 1907 as the National Association of Building Owners and Managers. The association assumed its present name in 1968 as it broadened its reach to include Canada and participants from around the globe.
Urban Land Institute - ULI Nashville is a trusted convener, collaborator and communicator/educator of best practices on all aspects of city building.
Civic Design Center - A 501(c)3 nonprofit that works with residents, organizations, and municipalities to help improve the quality of life of all people in communities. We do this through engagement, education, connection and design.